Continuing Game Rules
New CG Characters
Continuing Game characters start with 14 points. (Characters made for CG Unique Events, a special type of game in the CG world, may have a different number of points to start, as set by the GM.)
Fixed-Point Characters
If you wish, instead of playing a normal CG character, you may create a "Fixed Point Character" (FPC). An FPC differs from a regular character in the following ways:
FPCs start with 18 character points.
FPCs do earn experience. They may use it to buy off disadvantages, convert experience points into money, or move skills around (see "Experience Limits," below). Their overall power may not increase past 18 points.
FPCs cannot spend points in any other fashion (e.g., from NPC experience), staying fixed at 18 points at all times.
FPCs get only one Miracle.
FPCs are primarily intended for times when a player has an intriguing character idea, but only wishes to play that character once—or does not care if the character advances.
New Players
Players may, at any point up to and including the start of their fifth event, rearrange their characters' points. You can move a character's points around into different skills, and you can even shunt earned XP over into another CG character.
This happens between games, not during them, and can be done as many times as the player desires. And note that it's the player's fifth event, not the character's. You don't get to do this for every character.
Special Skills and Character Types
Some skills are available to CG characters only (for instance, the Charity disadvantage or the Status advantage). In addition, some CG character types may have special requirements (for instance, racial packages are required for non-humans, members of the clergy are required to take Cleric Initiation, and anyone with Cleric Magic must choose a patron deity).
Cleric Kits
Clerics in the CG may take deity-specific
Cleric Kits
, giving them custom spells and powers.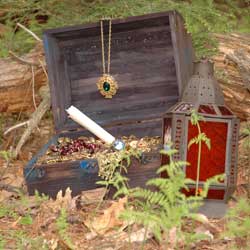 Wealth
CG characters start with three marks (unless you bought Wealth or Poverty). A character can never start a game below their initial money total. That is, if you lose all your money at a game, you will start the next game with three marks once again.
Races
There are several notable non-human races available to Continuing Game players, each explained briefly in the Player Races section and at length in their player packets. To be a non-human, you purchase a "package"—a collection of advantages and disadvantages, all at once. The cost of each racial package is equal to the sum of the advantages and disadvantages, so they neither save points nor cost extra. The disadvantages included within do not count towards a character's disadvantage maximum, and may not be bought off, ever. Also, don't forget to write your race on your character sheet in the "Race" blank.
To play a non-human race, you must purchase the full racial package. For instance, you cannot elect to play a mahiri without Mahiri Honor, or a dwarf without Potion Resistance.
For more information on the various races (and ethnicities), see the Races page.
Experience
CG characters gain experience as they move from event to event. As your character survives an event, the character earns experience points that you can then spend to buy new skills or improve existing ones.
Experience Points
CG characters earn experience points (XP) when they attend events. The longer and more dangerous the event, the more experience it's worth.
"One-day" events are primarily indoor events. They feature some combat but are primarily fueled by role-playing and problem-solving. They usually run about five hours. They are worth 1 XP.
"Two-day" events feature twelve to sixteen hours of play, some of which is outdoor adventure. Some combine a tavern setting on one night with a day-long outdoor adventure the next day. They are usually worth 2 XP total.
"Weekend" events run from Friday night until early Sunday afternoon. These are at an outdoor campground. They are worth 3 XP.
Game Masters and staff also receive full XP for the events they run or staff.
Spending Experience Points
Characters with a "lower version" of an ability who wish to purchase a "higher version" can automatically convert the points invested in the lower ability into points spent on the higher ability when purchasing the higher ability. For example, someone with 2 points spent on Lore would only need to spend 1.5 points to buy Sage, and someone with Social Distinction would only need to spend 1 point to buy Prominence (though they would still have to go through the normal Status procedure again). Characters can also "buy down" an ability from a higher to a lower version, in the same manner as moving skills (see "Experience Limits," below).
Buying off Disadvantages
Buying off a disadvantage requires paying the cost of the disadvantage, in normal ("growth") XP (see Experience Limits, below). This ensures that you have enough character points to pay for all your skills. Once you have bought off a disadvantage, you may not take that disadvantage again.
Resurrection Trauma
If your character dies without being returned to life within 30 minutes, or dies and then has a Spirit Speed cast on your ghost, the character has moved on to the afterlife. A return to the mortal realm, whether by Miracle or Resurrect spell, will inflict severe psychological (or physical) trauma on the character.
After returning to life, you must choose 1 point worth of disadvantages (except for Stigma) to reflect this trauma. You may not take a disadvantage that you already have, and you do not gain any points for taking the disadvantage(s). You must then role-play this trauma and keep the disadvantage(s) for the remainder of the current game and for the next 3 XP worth of games. (Note: only time spent playing that character counts for the "trauma clock." Attending games as an NPC or another character does not count.)
If there are more than eight hours of game time left when you are resurrected or use a Miracle, you may consider the current game to be 1 XP worth of games toward your trauma clock. Similarly, if you have only 1 XP worth of trauma clock left while you are attending a long game, you may role-play "getting over your trauma" after 8 hours of game time.
If you die and are sent to the afterlife again before having finished your trauma, select an additional 1/2 point of disadvantages, and "reset" the trauma clock back to 3 XP of games. Thus, each time you return from the afterlife before fully playing out your trauma, you must select an additional 1/2 point of disadvantages and reset the clock. You must play this (increasingly) larger set of disadvantages until you have gone 3 XP worth of games without a round trip through the afterlife.
Each time you suffer Resurrection Trauma, you can pick different disadvantages, so by all means, adjust your character's reaction to death each time. When selecting disadvantages, consider how your character would react to a return from the afterlife without any memory of what it was like. You could choose to play this as something that temporarily "breaks" your character until you get over it, or you could choose to make this a radical change of personality. In either case, once you get over the trauma, you are welcome to keep the disadvantages (and now get points from them) if they make sense for your character. (This is an exception from the normal rules that you cannot re-take a disadvantage that you have already bought off.) You may not, however, receive points for more than the maximum number of disadvantages, even if Resurrection Trauma caused you to exceed that threshold.
Some suggestions (with appropriate disadvantages in parenthesis):
Repentance: You believe that Nen has allowed your return to give you a chance to live your life as a better person. (Charity, Honesty, Law-Abiding, Peaceful)
Trickery: You believe you have escaped your just punishment through some trickery, and you are fearful to return to the afterlife. (Cowardice, Phobia, Sycophant)
Paradise Lost: You believe that you have been wrenched forth from a world far sweeter than this mortal existence of dirt and suffering, and you long to return to paradise. (Courage, Foolhardy, Overconfident)
Healed Body, Broken Mind: The return to mortal life has left you only a fraction of your true self. (Gullible, Phobia, Uncivilized Behavior)
The Mission: You believe that Nen has allowed you to return to the mortal realm, but only so that you may fulfill some role or complete some task or mission. (Courage, Honor, Law-Enforcing, Poverty, Stubbornness, Sycophant)
Experience Limits
In order to keep character balance fair, experience changes as your character grows more powerful. Once characters reach 25 points, they may only spend 4 points per calendar year on adding or improving skills. When a character reaches 35 points, this limit becomes 1 point per Quest year. So a character who begins the year with 33 points may only advance to 36 over the course of a year.
By being on a game staff or playing near the end of the Quest year, you may be able to earn points in a given year without getting a chance to spend them. You can apply points to a previous year's quota so long as those points were earned in or before the year they are applied to.
Your character will continue to earn full experience at all games; only your ability to spend it is limited. This may mean you earn more experience than you can spend. You may choose to store this leftover, "non-growth" XP and spend it during following years. Or it may be used in the following ways:
Converting XP into Money: You can always convert XP into money, even if you've spent your full total of points for the year.
Moving Skills: Characters may move points from one skill into another, at the cost of one non-growth XP for each XP moved. For instance, you could get rid of a 2-point skill and move those 2 points into another skill. This move would cost you 2 points of non-growth XP as a "tax." (Moving points from a skill into buying off a disadvantage will incur no tax—only moving points from one skill to another skill does this.)
Rules Changes
Characters in the CG are kept from game to game, but Quest's rules may change after a character's date of creation. If Quest changes a rule or skill that applies to your character, you may alter your character to compensate. For instance, if a disadvantage is changed and no longer fits your character concept, you may change it to another disadvantage. Similarly, if you have a skill that is changed and no longer works for your character, you may "reclaim" the points from that skill to use elsewhere. If a skill (even a free one) becomes more expensive, you can either shift points into the ability from some other skill or discard the skill and use its points elsewhere. However, unless you have special authorization from Quest, you may not reclaim points from unchanged skills to purchase changed skills.
Mystic paths must be rebuilt using the new paths and the standard rules.
If you have a potion of a spell that has changed level, been reworded, or been replaced by another spell, then your potion changes along with the spell. If this makes your potion more valuable, you do not have to pay more; similarly, if this makes your potion less valuable, you do not get a refund. This principle also applies to other magic items.
If you have a potion of a spell that has been removed, either entirely or just from the alchemy list, you may not keep the potion. As compensation, you get your choice of either the removed potion's purchase price in marks, or a number of potions whose spell levels are equal to that of the removed potion (your choice of new potions). This principle may not always apply to other magic items; for those, you should consult a Rules Marshal.
Points spent as a result of rules changes do not count towards your yearly expenditure total. For instance, if one of your skills got 1 point cheaper, you may spend that 1 point however you like and it will not affect your yearly spending maximum.
Living and Dying
Miracles
What are Miracles used for? Well, if your PC is dead or suffering from a Divine Wrath at the end of a game (at check-out), you cannot normally play that character again as a PC. But if your character has a Miracle left, it's automatically used to allow you to play your PC again, alive and whole (as if resurrected), if you so choose. (The question of whether you can play your character again as a PC is not the same as the question of whether your character was brought back to life.)
All characters get a number of Miracles at character creation. Normal (non-FPC) characters get three when they first start. If they haven't used a Miracle up by the time they reach 15 points, they automatically lose one then. This happens again at 25 points. If a character dies without having any Miracles left, additional Miracles can be purchased for 3 character points. These points can be shifted out of existing skills, or paid for by taking new disadvantages. Points spent towards Miracles count as spent XP, and as such apply towards a character's point cap.
Miracles can also be used between games to fix other problems, but only with the permission of the Game World Committee. Used in this way, they fix only the one problem in question.
Additionally, if a GM gives you permission, you can use a Miracle in the middle of a game, and resume playing your dead PC. Your other choices are to bring in another PC, join the staff and play an NPC, or sit around and hope that your original character will be resurrected.
Role-playing a Miracle
A Miracle is named that for a reason. Restoration to life should not be role-played lightly, and nobody should assume that a dead companion will spring back after a day or two.
You are free to make up your own story as to what the Miracle was: a common tale is that you were found and restored to life by Fendel, a mysterious and possibly divine being who shows mercy to adventurers whose missions go uncompleted. Perhaps your patron deity granted you a boon and returned you to Earth. Perhaps you just woke up, confused but fully healed, and you don't know what happened. Maybe a kind and powerful priest took pity on your dead form and brought you back himself. A player who saved the life of the Duke of Fnord but is killed in the process might decide that the Duke would use his considerable resources to have resurrection magic (an unbelievably rare and expensive spell to the average Joe) cast upon the character.
Healing
CG characters do get healed between events, within limits. If at check-out your character is wounded but not critically bleeding (including if your wounds were being tended with First Aid when game action ended), it is assumed that your character spends part of the time between that event and the next finding a remedy.
However, limbs that are lost altogether are not healed automatically; neither are Curses or other enduring spell effects. These all require the character to go into Healing Debt (see "Purchasing Magical Services," below).
Characters who are dead, critically bleeding, poisoned, or who have active Divine Wrath spells at the end of a game may only be brought back as PCs through the use of a Miracle (see above).
The CG Economy
Coins
The standard coin across Hesket is the mark (M). There is also a larger coin, called the crown (C), worth five marks. Smaller than the mark is the fivepence (F), sometimes called the "bit;" there are five fivepence to one mark. The smallest coins are the small pence (P); there are five pence to a fivepence, as the name implies.
25 pence = 5 fivepence = 1 mark = 1/5 crown
There is also a large gold coin, the ducat (D), worth two crowns or ten marks.
Purchasing Magical Services
Characters may require healing magic or other services between events. If the effects of a problem naturally dissipate within a specific time period, the player need not worry about finding appropriate services. However, continuing problems (such as lost limbs or Curse, Forget, or Suggestion spells) will require hiring a mage or cleric to remove them (see "Healing Debt," below).
Purchasing these services may only be done at the beginning of the next event attended. The cost is twice the level of the spell, in marks. These costs are for all characters, regardless of the fact that they may be able to perform these services themselves in-game.
Spells
Determine Potion
Identify
Regeneration
Dispel Magic
Healing Debt
Characters who finish an event with unhealed limb wounds (or a chest wound, if the bleeding is stopped in-game) will be able to find healing for these wounds for free. However, characters with lost limbs, curses, or other ailments will need to seek cures.
A character may go into "Healing Debt" between events. This applies only to healing (including cures and removing curses) and may not be used for identifying items or determining potions! If a character does not have enough money to pay for a healing spell, they can borrow the needed amount from a church or charity, but only enough money to pay for one healing only. The character must then pay off the entire amount before being permitted to go into healing debt again. Paying off the debt will require twice the amount borrowed.
The character must put all money earned towards the debt, minus their starting money total (three marks, or one mark if you have Poverty.) This may be done at the end of events, so that characters with Charity can pay off the debt quicker, but characters with Poverty will need a long time indeed to pay off debts. If a character can find another character to pay for the healing they may get a lower interest rate (plus some good opportunities for role-playing and making contacts with other players)!
Example: Samuel has 7 marks, and needs a Regenerate (a fifth-level spell) for healing, which costs 10 marks. He can then borrow 6 marks (he has 7 but must keep 3, so he has 4 available and needs 6 more), which gives him enough money to buy the spell. He then has a debt of 12 marks (double the amount borrowed).
Converting Experience into Money
At every game, you may convert up to 2 unspent XP into marks, yielding five marks per 0.5 XP you spend.
Commerce and Services
Poison
Poison costs 10 marks per dose. Poison antidote is purchased as if it were a Cure Poison potion.
Holy Weapons
You may buy a permanently Holy weapon from the upper clergy of your patron deity for 50 marks. The enchantment will only work for you. This purchase must be approved by the Game World Committee. (If you have no patron deity, you may not purchase a Holy weapon!)
Potions
Potions may be bought or sold at check-in only.
Selling
You may sell any enduring potion you own. Most potions sell for a number of marks equal to three times the level of the equivalent spell. If a potion has only two events left before it goes bad, the out-of-game merchant will only buy it back for two marks per level. If the potion has only one event left, the out-of-game merchant pays one mark per level.
Buying
You may purchase one enduring (but not extra-enduring) potion at check-in before each event. The cost of the potion is five times the level of the equivalent spell, in marks. The difficulty number and Will of the potion are the minimum level of Alchemy needed to create it.
Potion "Shelf Life"
Characters can carry enduring potions from one event to the next, but potions are inherently unstable and, if carried around, will eventually become inert. Once an enduring potion has been brought to a total of 5 games (or 10 games for an extra-enduring potion), it becomes useless. At check-in, you may decide whether or not to bring a potion into game—if you do not, you will not have it during that game, but its lifespan will not decrease.
If a potion is sold or stolen in-game, then it is the original owner's responsibility (out-of-game) to tell whomever gets the potion how long it will last.
Character Approval
Some Continuing Game character traits require approval by the Game World Committee before they can be played. These traits include:
playing any race other than human, mahiri, dwarf, or half-mahiri
playing a Yamamotoan or other Dosanese human
playing a human with Innate Power
having Status
having a player-created Honor Code
playing a noble or a character with religious rank
having a permanently Holy Weapon
How do I get my character approved?
Before you play the character for the first time, you must write a proposal for the character and give it to the Game World Committee. This process can take several weeks; be sure to allow enough time. For guidelines on how to propose a character, see the guidelines page.
CG "Unique Events"
CG Unique Events are games that are run in the CG universe, but only allow characters created specifically for that event. The above rules will typically not apply without approval from the GM of that event.